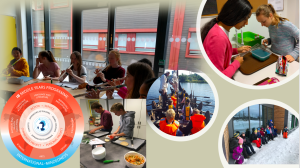 GIS became a candidate school for the MYP in the spring of 2017.
The Middle Years Programme is a framework that builds on the PYP and is an excellent preparation for the renowned IB Diploma Programme (DP), which is taught at Gjøvik High School. Research shows that students who completed the MYP prior to the DP are more successful in the latter and thus are better prepared for university. You can find the outcomes of the research here: Comparing DP outcomes with MYP summary.
At GIS, we are currently transitioning from a five-year MYP (Grade 6 to 10) to a four-year programme.
To learn more about the MYP curriculum at GIS, please view the subject overviews below:
To learn more about the MYP, visit the IB's website.